Web Tracks gives you quite a bit of flexibility when it comes to the presentation of your web application. One powerful way in which Web Tracks allows for a high level of customization is through Dashboard Objects. The following figure shows how dashboard objects can be used to give a customized view of the home page...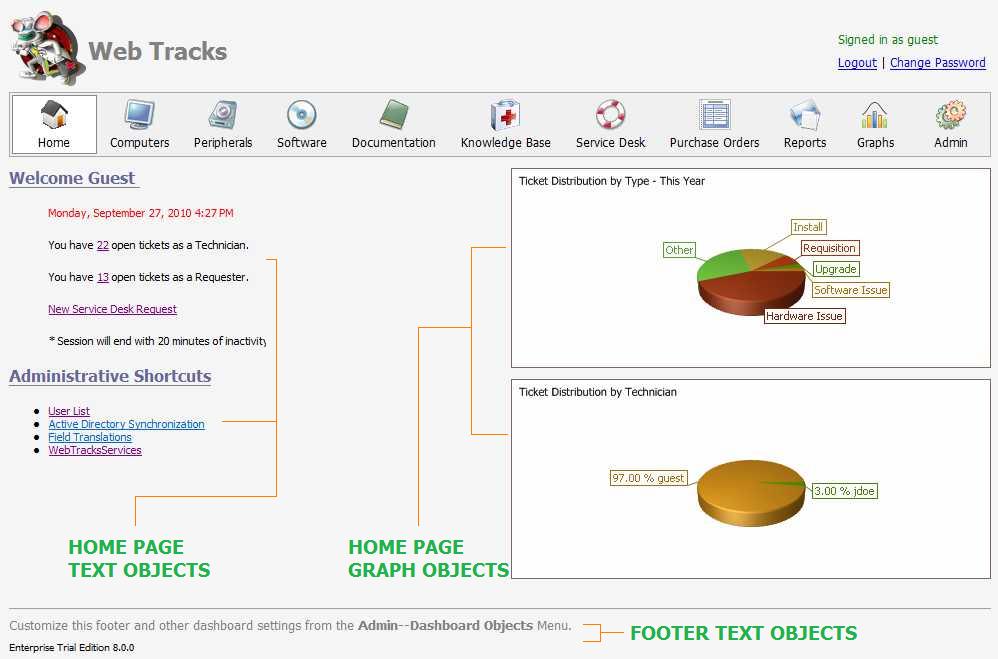 Dashboard objects can be graphs (which you can create) or Text/HTML.

NOTE: the home page displays text objects in the left hand column and graph objects in the right hand column. Furthermore graph objects can only be displayed on the home page in the right hand column. When viewing on a phone both text and graph objects will be positioned to the left.
| | |
| --- | --- |
| COMMON VARIABLES | |
| %COMPUTERNAME% | Client Computer Name on which the User is signed in |
| %DATE% | Current date in Long Date format according to your regional settings |
| %DATETIME% | Current date in Long Date, Short Time format according to your regional settings |
| %TIME% | Current time in Short Time format according to your regional settings |
| %JSDATETIME% | JavaScript Date & Time (includes seconds and updates automatically) |
| %IPADDRESS% | Client Computer's IP Address |
| %USERID% | User ID of the signed in User |
| %USERFNAME% | First name of the signed in User |
| %USERLNAME% | Last name of the signed in User |
| %SESSIONLENGTH% | Session Length as set in Internet Information Services (IIS) Manager |
| | |
| SERVICE DESK VARIABLES | |
| %CNT_TICKETS_ALL% | Count of all Tickets in the Database |
| %CNT_OPEN_TICKETS% | Count of all Open Service Desk Tickets |
| %CNT_OPEN_TICKETS_TECH% | Count of Open Service Desk Tickets where the signed in user is the technician |
| %CNT_OPEN_TICKETS_USER% | Count of Open Service Desk Tickets where the signed in user is the requester |
| %CNT_OPEN_TICKETS_UNASSIGNED% | Count of Open Service Desk Tickets that are unassigned |
| %CNT_CLOSED_TICKETS% | Count of all Closed Service Desk Tickets |
| %CNT_CLOSED_TICKETS_TECH% | Count of Closed Service Desk Tickets where the signed in user is the technician |
| %CNT_CLOSED_TICKETS_USER% | Count of Closed Service Desk Tickets where the signed in user is the requester |
| %CNT_CLOSED_TICKETS_UNASSIGNED% | Count of Closed Service Desk Tickets that are unassigned |
| %CNT_PENDING_TICKETS% | Count of all Pending Service Desk Tickets |
| %CNT_PENDING_TICKETS_TECH% | Count of Pending Service Desk Tickets where the signed in user is the technician |
| %CNT_PENDING_TICKETS_USER% | Count of Pending Service Desk Tickets where the signed in user is the requester |
| %CNT_PENDING_TICKETS_UNASSIGNED% | Count of Pending Service Desk Tickets that are unassigned |
| %CNT_WORKHOURS_TODAY% | Count of Work Hours for the current day where the signed in user is the technician |
| %CNT_WORKHOURS_WEEK% | Count of Work Hours for the current week where the signed in user is the technician |
| %CNT_WORKHOURS_MONTH% | Count of Work Hours for the current month where the signed in user is the technician |
| | |
| PURCHASE ORDER VARIABLES | |
| %CNT_OPEN_POS% | Count of all Open Purchase Orders in the database |
| %CNT_OPEN_POS_USER% | Count of Open Purchase Orders where the signed in user is the PO Writer |
| %CNT_CLOSED_POS% | Count of all Close Purchase Orders in the database |
| %CNT_CLOSED_POS_USER% | Count of Closed Purchase Orders where the signed in user is the PO Writer |
| | |
| KNOWLEDGE BASE VARIABLES | |
| %CNT_KB_ARTICLES% | Count of All KB Articles in the database |
| %CNT_KB_ARTICLES_PRIVATE% | Count of Private KB Articles in the database |
| %CNT_KB_ARTICLES_PUBLIC% | Count of Public KB Articles in the database |
| | |
| INVENTORY VARIABLES | |
| %CNT_COMPS% | Count of Computers in the database |
| %CNT_PERIPHS% | Count of Peripherals in the database |
| %CNT_SOFTWARE_ASSETS% | Count of Software Assets in the database |
| %CNT_DOCS% | Count of Documentation Assets in the database |